Standard and Naked Motorcycles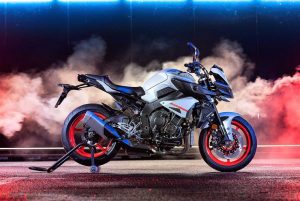 Standard bikes are strongly recommended for beginning riders offering a smooth power-band that is easy to manage for casual riders. Their affordable entry price, ease of maintenance and comfortable riding position means they won't break the bank or your back. These beginner friendly traits also make them very popular among experienced riders who appreciate the jack of all trades aspect of these bikes.
A few examples include the Suzuki SV650, GSXS1000, GS500F, GSXS750, Kawasaki Ninja 1000, Kawasaki Z900, Z1000, Yamaha FZ6, FZ07, FZ08, FZ09, FZ10, Honda CB1000R, Triumph Street Triple 675, and the Ducati monster line. Standard bikes come in fairing or naked configurations and encompass the do-it-all street bikes that are just as happy on the daily commute as they are carving up canyons. Halfway between a forward leaning sport riding position and a relaxed cruiser position, a standard bike's upright riding position is forgiving on your hands and back, with ergonomically positioned handlebars and footpegs. This adds up to a perfect mix of daily comfort, while allowing you to get into a tucked position for maximum agility.
Sport Bikes and Supersport Bikes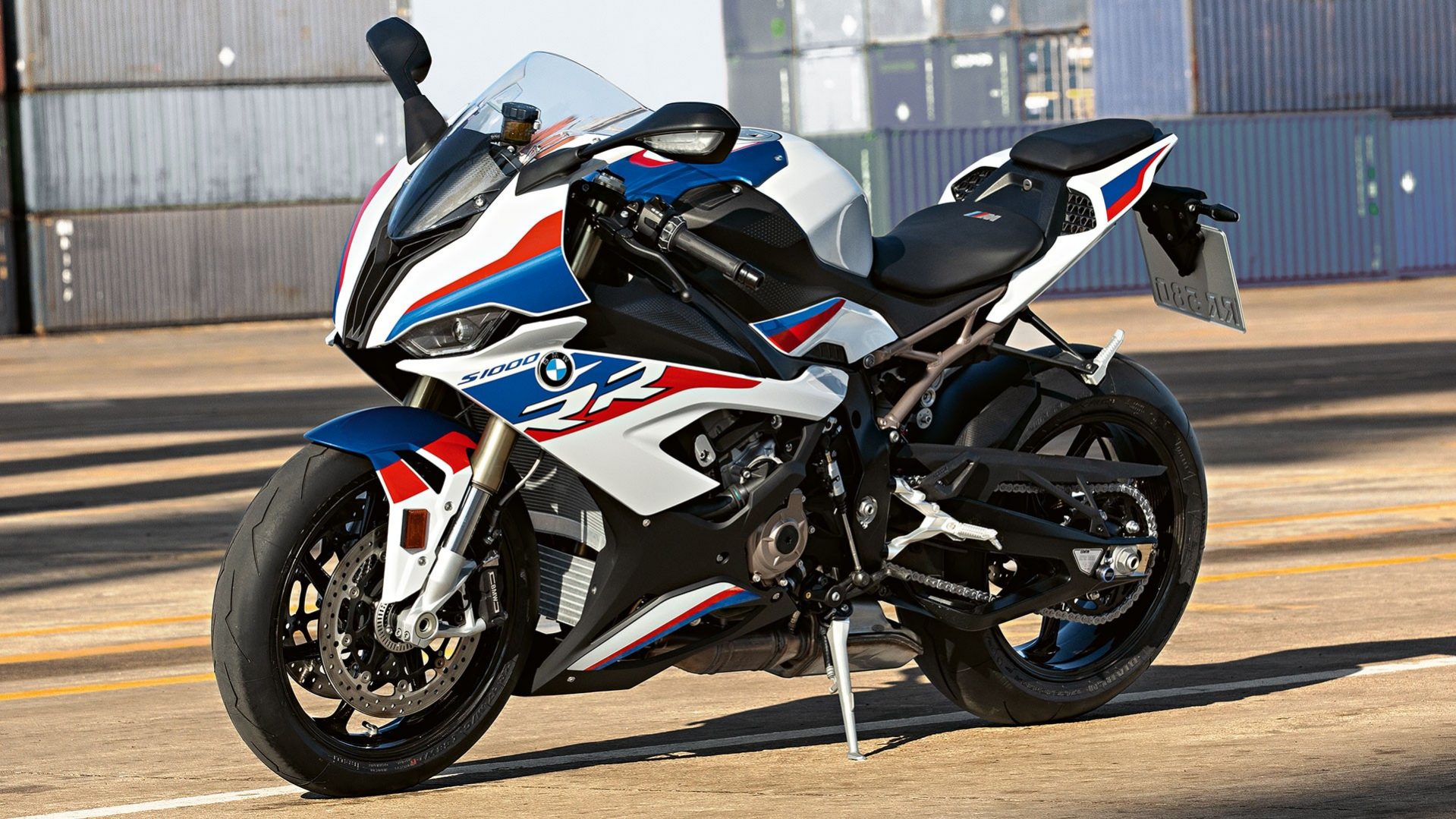 With a high performance, high revving engine tucked inside a lightweight frame, finely tuned precision suspension, and a no compromise aggressive forward leaning riding position, sport bikes are road legal track machines. The brakes are beefed up with multi-piston calipers and vented rotors, the exhaust notes tend to be louder, and the bike is often built of advanced materials to ensure durability while keeping weight down.
These motorcycles are all about giving the rider maximum feedback from all parts of the motorcycle and the road in order to be able to push them as hard as possible. Though not ideal for longer road trips, they're incredibly popular within the motorcycle community due to how exciting they are, whether on canyon road or at your local track. We also carry all the top sport and supersport bikes including Yamaha R6, R1, Honda CBR600RR, CBR1000RR, Suzuki GSXR 600, GSXR 1000, Kawasaki Ninja 636 ZX6R, ZX10R, and the BMW S1000RR. These motorcycles are recommended for experienced riders looking for the most aggressive riding position. The track-focused design of supersport motorcycles combined with high-revving engines make for extremely responsive handling, throttle and braking performance.
Dual Sport Bikes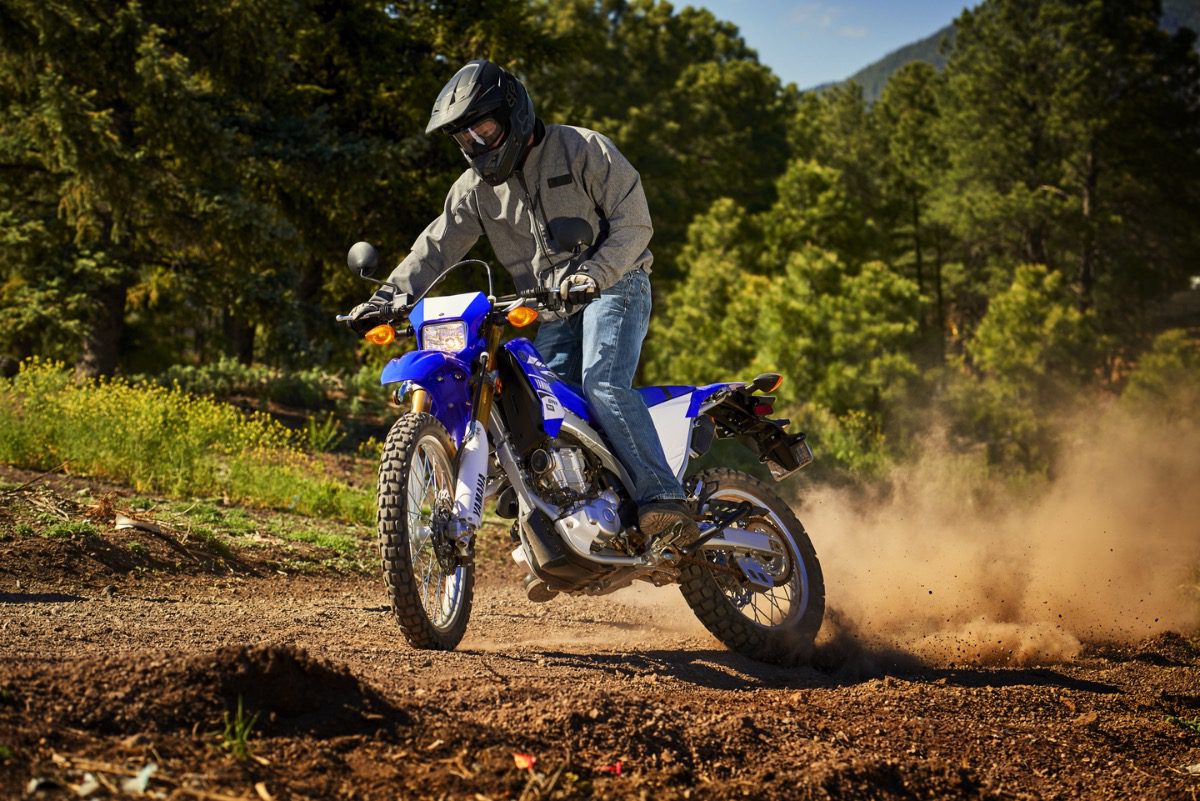 One step closer to a pure off-road machine is the dual sport motorcycle. Do you prefer to take the road less traveled? Do you enjoy riding off road? Need to ride over a non-paved road to get home? Maybe you just want a bike with a dirt bike look that you can ride on the road. If this sounds like you, a dual sport bike is perfect for you!
Between their ease of maintenance and legendary versatility, a dual sport motorcycle is the ideal choice for any on or off road adventures! A few examples include the Kawasaki KLR 650, Yamaha XT225, Yamaha TW200, Honda CRF230L, Kawasaki KLX250, Kawasaki Versys, Suzuki DR-200SE, Yamaha WR250R.
Touring and Sports Touring Bikes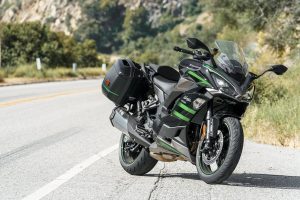 Sport touring motorcycles combine attributes of sport bikes and touring motorcycles. Though the difference between the two categories can often be blurred by manufactures, however, touring motorcycles are no nonsense distance riding machines which place all their emphasis on comfort and practical utility.
This is achieved with large displacement engines that provide a lot of torque, along with a comfortable upright seating, large fairings and windscreens for increased wind and weather protection, spacious passenger seating, luggage attachments and increased capacity fuel tanks for enhanced range between two gas station stops. Everything about these motorcycles is designed to make them trans-continental capable rides. A few examples include the Yamaha FJR1300, and the BMW R1200 RT. Sport Touring Bikes are very similar in build, but are racier overall. Their engines are tuned for more horsepower than torque, their suspension is a bit firmer, their steering geometry is sharper, which all contributes to a more lively touring motorcycle. You can't go wrong buying either of these kinds of bikes, but knowing the difference means you can get something which truly accommodates your riding needs. A few examples include the Ducati Multistrada, Yamaha FZ1, FJ09, BMW R1200 RS, Honda VFR Interceptor, Suzuki V-STROM, and Kawasaki CONCOURS.
Cruisers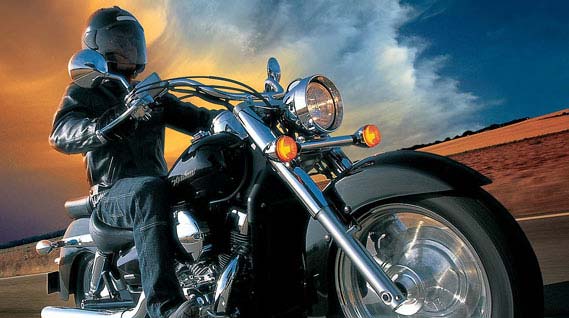 Designed for more laid back riding. Cruisers are a statement of personality with their throwback to a more retro style. Modeled after classic mid-century American motorcycles, cruisers often have a long wheel base, wide tires, softer suspension and a reclined seating position which lowers the center of gravity, all of which makes for a very comfortable ride.
portfolio15-lrgStrong low-rpm power and padded seats make taking a passenger for a ride along with you a breeze. Perfect for road trips or a Sunday afternoon cruise. A few examples include the Harley Iron 883, Yamaha V-Star, Bolt R Spec, Kawasaki Vulcan S, Vulcan 900 Classic, Vulcan 900 Custom, Suzuki Boulevard S40 and the Boulevard M50, Honda Fury, Shadow Phantom, Rebel 300, Rebel 500, and the VT13CSB Sabre.
Here at AK Motors we stock a wide array of used motorcycles to suit any rider skill levels and riding style. Whether you are looking to purchase your first motorcycle, or upgrade to something with more power, we have a bike that is perfect for you.
For beginner to intermediate level riders, we recommend motorcycles with an engine displacement of 250cc-650cc. If you're looking to get started on your first motorcycle, popular choices include the Honda CBR 250, CBR 300, CBR 500, Kawasaki Ninja 250, Ninja 300, Ninja 400, Ninja 500, Ninja 650, Kawasaki Z650, Suzuki GS500, GSX250R, BMW G310R, or the Yamaha R3 , or MT-03. These bikes are lightweight, easy to maneuver, and offer excellent gas mileage. One of the most important factors to consider when buying a beginner bike is the riding position. An upright, relaxed riding position will provide the most comfort, balance, and control for those just getting into motorcycling. If you frequently ride on the freeway, we recommend stepping up to motorcycles in the 500cc-650cc size. Popular motorcycles in this range include the Honda Shadow 600, Kawasaki Ninja 650, Suzuki SV650 and SV650S, Triumph Street Triple R, Yamaha FZ6, and many more. Stepping up to a 600cc or higher engine size will offer far more comfort at highway speeds, in addition to more power for spirited riding. Choices like the Kawasaki Ninja 650, Suzuki SV650 or Yamaha FZ6 offer the perfect blend of an upright riding position with plenty of power for freeway commuting and sport touring.
Click here if you're interested in seeing any bikes from our current inventory!!