Our Favorite Beginner Bikes of 2020
November 23, 2020

Posted by

admin
Comments Off

on Our Favorite Beginner Bikes of 2020
There are alot of amazing beginner bikes out there! Based on a few of our favorite beginner bikes in 2020, we wanted to give a list and quick comparison between the : R3, CBR300R, Ninja 400, and the GSX250R. When buying or even just choosing which motorcycle to buy, there are a lot of factors to consider. These factors include: horsepower, brake features, and technology. Even we had a tough time choosing which bikes to put on our list so it can definitely be very intimidating for beginners to know where to start looking.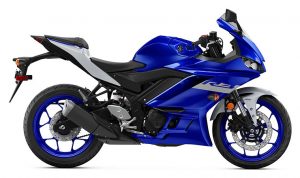 Yamaha YZF R3
Engine: Twin-cylinder 321cc
Transmission: Six-Speed
Curb Weight: 375 lbs (170 kg)
Fuel Capacity: 3.7 gallons (14 L)
Yamaha first introduced these 321cc little rocket ships back in 2015 and they've become increasingly popular with beginner riders, commuters, and lightweight track day rides as well. Maybe more impressive than the power delivery is the outstanding rider position and suspension feel. If you want to learn how to ride a motorcycle on a track the R3's do a great job. It's basically like an entry level track bike.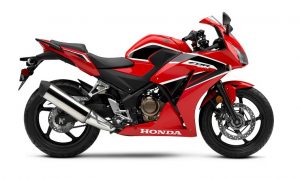 Honda CBR300R
Engine: Single-cylinder 286cc
Transmission: Six-Speed
Curb Weight: 357 lbs (162 kg)
Fuel Capacity: 3.4 gallons (13 L)
The Honda CBR300R is powered by the same 286-cylinder engine as the naked CB300R and CB300F models, all offering a user friendly entry point into riding full-faired sport bikes. These bikes have impeccable sportbike credentials, being light, narrow, and offering grand prix styling. Their relatively low seat height of 30.7 inches and nimble chassis make navigating through dense traffic easy peasy, while still offering enough sporting capability to conquer the twisties~!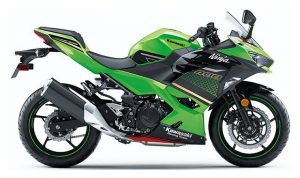 Kawasaki Ninja 400
Engine: Four-cylinder 399cc
Transmission: Six-Speed
Curb Weight: 366 lbs (166 kg)
Fuel Capacity: 3.7 gallons (14 L)
How in the world did Kawasaki get so much power out of a 399cc parallel twin?! The Ninja 400 offers the largest displacement in the beginner category at 399cc with the sophistication of twin-cylinder power. This bike has alot of beginner friendly power, superb ergonomics and class-leading performance offer a smooth, manageable ride that's ideal for new riders while also catching the eyes of experienced riders. It has a  low seat height and an aggressive styling with LED headlights. The Ninja 400 could be  the ideal choice for riders looking to enter the sportbike scene.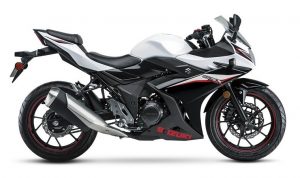 Suzuki GSX250R
Engine: Twin-cylinder 248cc
Transmission: Six-Speed
Curb Weight: 392 lbs (178 kg)
Fuel Capacity: 3.9 gallons (15 L)

Suzuki's iteration of the ever-popular 250-300cc supersport entry motorcycle is a little late in the game, but game respects game. These bikes are built for beginner riders who want a sporty machine. The model features a liquid-cooled parallel-twin engine with a displacement of 248cc that makes 25 hp and 17 lb-ft of torque. The bike might be only a beginner bike but it is a real deal sportbike. The GSX250R bear a resemblance to its larger GSX-R cousins, but the bike draws its biggest inspiration from the Katana lineage. This explains the "GSX" part of the name, as the Katana line featured the same name designation
---
Read about the difference between different styles of motorcycles at : https://akmotorcycles.com/motorcycles/