Spotlight: The World's largest manufacturer of Motorcycles
November 30, 2016

Posted by

admin
Comments Off

on Spotlight: The World's largest manufacturer of Motorcycles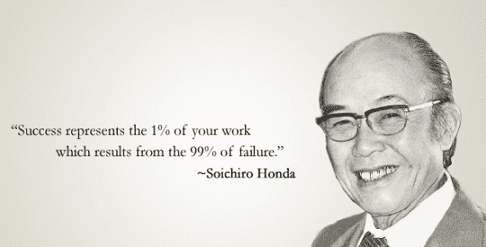 1946 marks the first year production of Honda motorcycles by Soichiro Honda. (picture provided by findlayhondaflahstaff.com) WWII had just ended previously in 1945 and a war-devastated Japan needed an answer to the high demand for cheap transportation. Soichiro spent the next three years designing and developing his engine for his bicycles. In 1949, Japan got it's answer with the first Honda motorcycle called the Model D for Dream. As a kid, Soichiro was infused with mechanical skills he attained from working on mechanical devices given to him by his father. Gihei Honda was the town's local blacksmith and Soichiro refined his mechanical skills over the years as he helped his dad, Gihei, fix and sell bicycles and motors. He became so proficient by the age of 17 that he was picked as the mechanic for Shinichi Sakibahara, a famous race car driver in Japan at that time. Soichiro eventually opened his repair shop four years after working for Shinichi, where he continued mastering his engineering and mechanical skills. In 1958, Soichiro disrupted the motorcycle market in the U.S by selling the first Honda, a C100 Super Club. What's the bike's claim to fame? It is widely recognized as the largest-selling motorcycle of all time with more than 60 million units to date and counting. The bike will happily give the rider an astounding 90 mpg along with a cheaper price tag than most current small motor bikes. Picture provided by Motorcyclenews.com.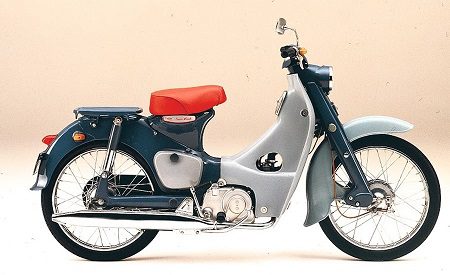 Since then, Honda has continued to build its reputation as being most "reliable" with its continued success over the years from their Honda CB 77 to the super hawk models and into the modern age of sportsbikes with the 87′ CBR600F and the street legal 92′ NR 750. In 2007, Honda also became the first manufacturer to feature air bag crash protection on a motorcycle. In addition to Honda's motorcycle superb reliability, they have continued to manufacture motorcycles with consumer safety as it's top priority. Apart from being the largest motorcycle manufacturer, they are the largest engine builder and 6th largest automobile producer in the world. Check out our Honda Inventory for more details on any of Honda's most dependable sportsbikes.
Here at AK Motors we are proud to offer one of the best used motorcycle selections you'll find in the Bay Area. If you're in the market for a used bike, check out our online inventory or contact us for an appointment. To see our current inventory and explore more details, check out our Inventory page! We are located in the heart of the Silicon Valley in Santa Clara, CA with easy access from all over the Bay Area. We offer financing for all credit levels! Apply online here, and contact us with any further questions.