Moto-Spotlight: Kawasaki ZX10R
April 23, 2016

Posted by

admin
Comments Off

on Moto-Spotlight: Kawasaki ZX10R
The ZX10R is a showcase of what Kawasaki can do. With a 998cc engine at the top of its class, and handling characteristics that rival many 600 class bikes, the ZX10R is a true rider's machine. Despite being at the top of pack in terms of raw speed, Kawasaki has put a lot of work in to ensure the handling can compete with the best of them. The ZX10R's wheelbase has been stretched, in conjunction with a more relaxed steering angle to provide stable and yet responsive turn in ability. Strong brakes and the wet slipper clutch further aid in the ZX10's smooth handling whether on the track or the road.  This is a machine packed full of technology that the common eye might look right past. A prime example of this is the electronic engine aid dubbed "KIMS", or Kawasaki Ignition Management System which they differentiate from traditional traction control systems. Rather than reducing throttle response when applied too quickly, KIMS manages spikes in engine speed when rear wheel slip is detected by the onboard sensors. Other noted developments are found in circular holes in the chassis which act as relief points to provide the most linear feedback to the rider. The entire chassis is designed to accommodate the rider as part of the machine, with formed tank shape that a rider can rest their arm on while cornering hard, and the seat cup that keeps the rider centered under acceleration.  The ZX10R lives at the top of some of the most extreme sport bikes available to the public, and yet carries itself with handling and stability of a middleweight sport bike.  This is certainly one of the most impressive packages to come out of Kawasaki's doors.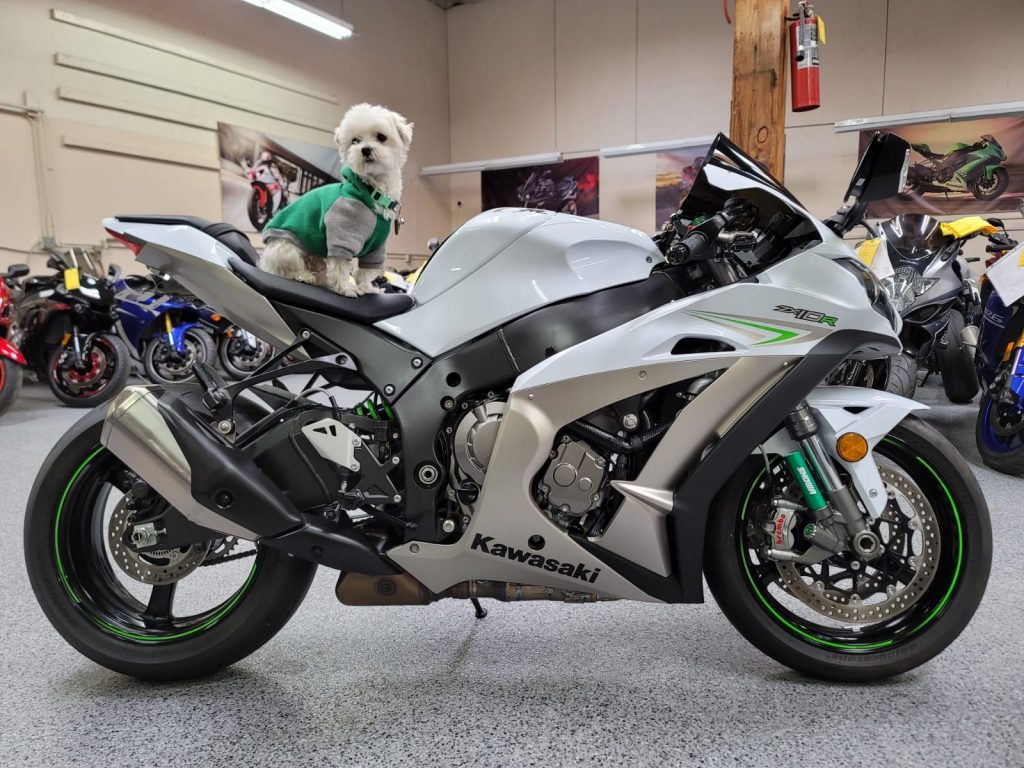 See our full offering of pre-owned motorcycles at AK Motors for the best deals in the Bay Area.  We offer a wide selection of bikes from super-sport to dual-sport and everything in-between.  AK Motors is conveniently located in the heart of the Silicon Valley in  Santa Clara, CA with easy access from all over the Bay Area.  See our contact information here to get set up with an appointment and on your way to the open road.
Full selection of used motorcycles in Santa Clara, and the surrounding Bay Area here!