Motorcycle attire: Dress for the slide.
December 27, 2016

Posted by

admin
Comments Off

on Motorcycle attire: Dress for the slide.
Some people know squids as Cephalopods that are consumed as calamari, to others squids are a careless motorcycle riders. Real life squids are known to have short lifespans and for this reason experienced motorcyclist refer to careless riders as squids.
let us observe a squid in it's natural habitat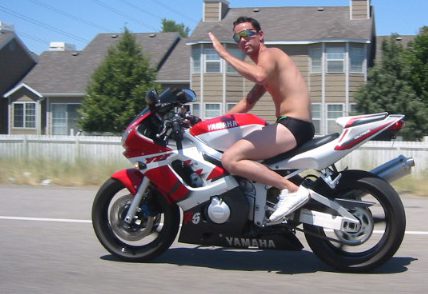 Image from https://thedandooligan.files.wordpress.com/2011/02/squide.jpg
Here we see a motorcyclist who isn't equipped with adequate protection, is not focused on the road, and is improperly operating their motorcycle as he only has one arm in on the handlebars. This is a squid, DON'T BE A SQUID. There is no conceivable reason to operate a motorcycle this way, this will result to in harm to yourself and those that love you. While squids may think that they look better/cooler without proper motorcycle attire, seasoned riders think they look stupid.
I always thought that motorcycle apparel looked cool and set riders apart. With advances in technology motorcycle gear doesn't have to look as clunky or "unique" as it used to. Manufacturers now are coming up with new styles for everyday use such as Lightweight jackets, Kevlar jeans, and armored flannel shirts . Full body riding suits offer the best protection and are becoming more affordable. There is something for everyone such that there is no reason to be on the road without any form of protection.
Ultimately when on a motorcycle you dress for the slide, not the ride.
Here's a nice checklist of what to wear.
1.) Helmet: Choose something that is full face or modular as most impact is at the lower jaw region of the face
2.) Torso: Abrasion resistant jacket (leather is recommended). It should be zipped up otherwise maximum isn't guaranteed.
3.) Gloves: Grandma's mittens aren't going to cut it. Leather gloves with Kevlar protection are strongly advised
4.) Legs: Denim jeans offer very little protection. A set of good riding pants will offer protection against road rash (abrasion).
5.) Footwear: Should go over ankle. Tennis shoes offer better protection than being barefoot but it may not be enough. Leather boots or motorcycle approved sneaker are recommended.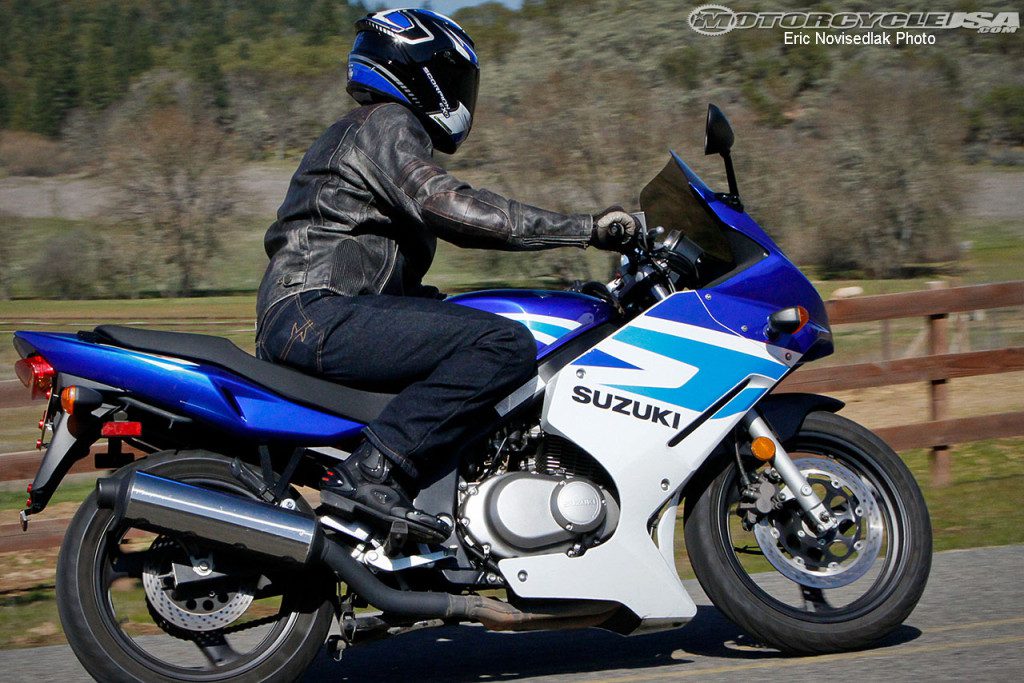 Image retrieved from https://www.motorcycle-usa.com/wp-content/uploads/2015/08/Scorpion-Covert-Jeans.jpg
If you feel encouraged and ready to hit the road then come pay us a visit. We will do everything we can to get you on the road. Until next time, Keep the dirty side down.
Here at AK Motors we are proud to offer one of the best used motorcycle selections you'll find in the Bay Area. If you're in the market for a used bike, check out our online inventory or contact us for an appointment. To see our current inventory and explore more details, check out our Inventory page! We are located in the heart of the Silicon Valley in Santa Clara, CA with easy access from all over the Bay Area. We offer financing for all credit levels! Apply online here, and contact us with any further questions.