Spotlight: 2015 Yamaha YZF-R3
January 17, 2017

Posted by

admin
Comments Off

on Spotlight: 2015 Yamaha YZF-R3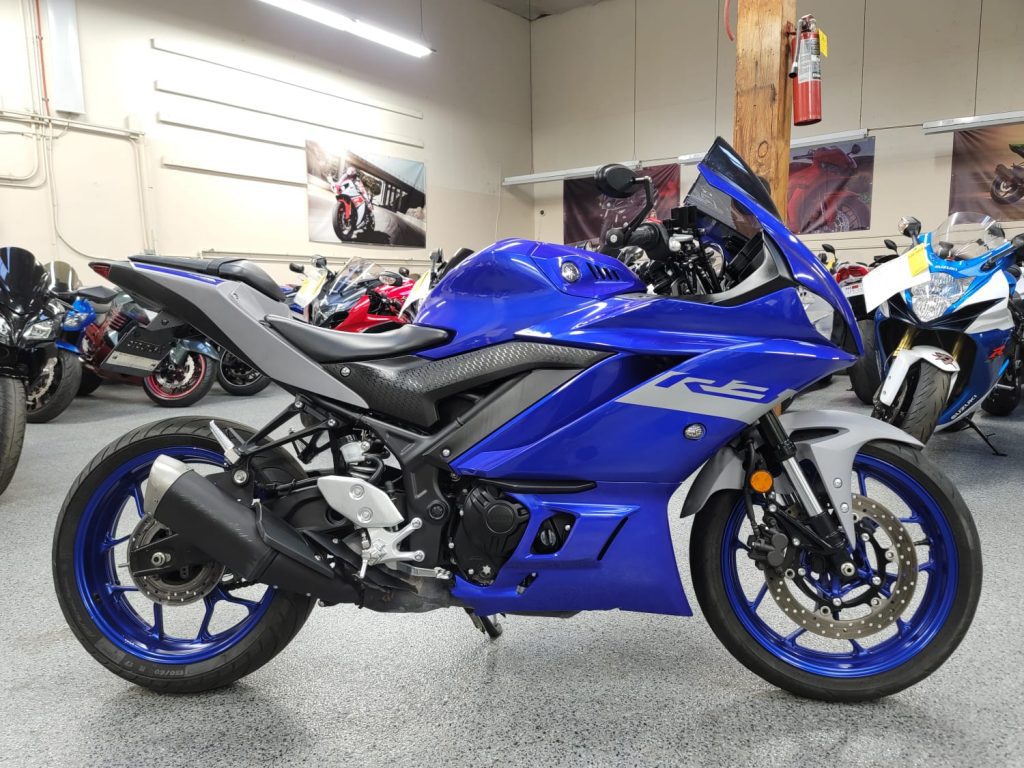 Introduced in 2015 the Yamaha YZF-R3 has made an impression in the beginner bike market, our impression is that this bike isn't solely for beginners. Addressing the elephant in the room: this bike will not outperform any of the bigger bikes in the market, but not everything is a race and that is not to say that this bike isn't enjoyable.
The Yamaha R3 weighs in at 368lbs and is paired with a 320cc engine that puts out 42HP and 21lbs of torque. The end result is a motorcycle that can handle it's own and won't easily be outgrown by novice riders. The R3 delivers a surprising punch north of the 5k rpm range which can be sure to give you a smile. The R3 shouldn't be overlooked just because it isn't a marquee sports bike, there is lots of fun that can be had with this motorcycle.
Usually entry level motorcycles offer very in the way of features but that isn't the case with the R3. First of all the Bike is equipped with fuel injection which is easier starts in cold weather and requires less maintenance to fuel systems. Also included with the R3 is a instrument gauge that offers plenty of information such as fuel quantity, water temperature, trip odometer, and engine malfunction. Surprisingly this all these features aren't standard on all motorcycles and can be very useful to ensure proper motorcycle operation.
When compared to larger sport bikes the R3 offers more MPG, increased maneuverability, and a better price point. When compared to other entry level motorcycles the R3 offers more power, performance, and features. Overall the R3 is a great motorcycle to start with. To see this motorcycle click here.
Here at AK Motors we are proud to offer one of the best used motorcycle selections you'll find in the Bay Area. If you're in the market for a used bike, check out our online inventory or contact us for an appointment. To see our current inventory and explore more details, check out our Inventory page! We are located in the heart of the Silicon Valley in Santa Clara, CA with easy access from all over the Bay Area. We offer financing for all credit levels! Apply online here, and contact us with any further questions.